Just off the coast of Newport Beach, CA lies an island of .2 square miles with about 3,000 residents called Balboa Island. The island is connected by a public bridge, but it can also be accessed by ferry or other water vehicles. Boat piers for homeowners line the perimeter, and shops, restaurants, and real estate fills the land on Balboa Island. In fact, the only bar,
The Village Inn
, has been on the island for over 80 years, and locals lovingly call it "VI."
With limited space and an ideal location, Balboa Island boasts one of the country's most expensive real estate markets, just behind lower Manhattan. For example, a two-bedroom house with ocean views can list for about $3 million. Many lots are currently being sold for at least $2 million, and existing bayfront properties range in price from about $4 million to $9 million and up.
If you're thinking of buying Balboa Island real estate, be prepared for a competitive environment. However, after all that negotiating, you'll want to refresh and rejuvenate, and nothing will hit the spot more than lunch or dinner at
Ruby's Balboa
, one of the most famed restaurants on the island.
Curb your appetite with these dishes at Ruby's Balboa
1. Frings
This appetizer or side dish combines French fries and deep-fried "Ruby Rings," the restaurant's crispy onion rings. They're an excellent choice for diners who can't decide which side they prefer, and they pair well with anything else on the menu. Don't miss out on the frings when visiting Ruby's Balboa!

2. Garden Scramble
Breakfast lovers will delight in the Ruby's Garden Scramble, a savory blend of three jumbo eggs scrambled with flavorful sautéed mushrooms, fresh spinach, chopped onions, bell peppers, homemade salsa, and a combination of cheddar and Monterey jack cheese. The scramble comes with breakfast potatoes and a choice of toast or an English muffin. Those with hearty appetites can opt for thick-cut bacon, veggie sausage, or sausage links. You're sure to walk away full after Ruby's Garden Scramble.

3. Cinnamon Roll French Toast Combo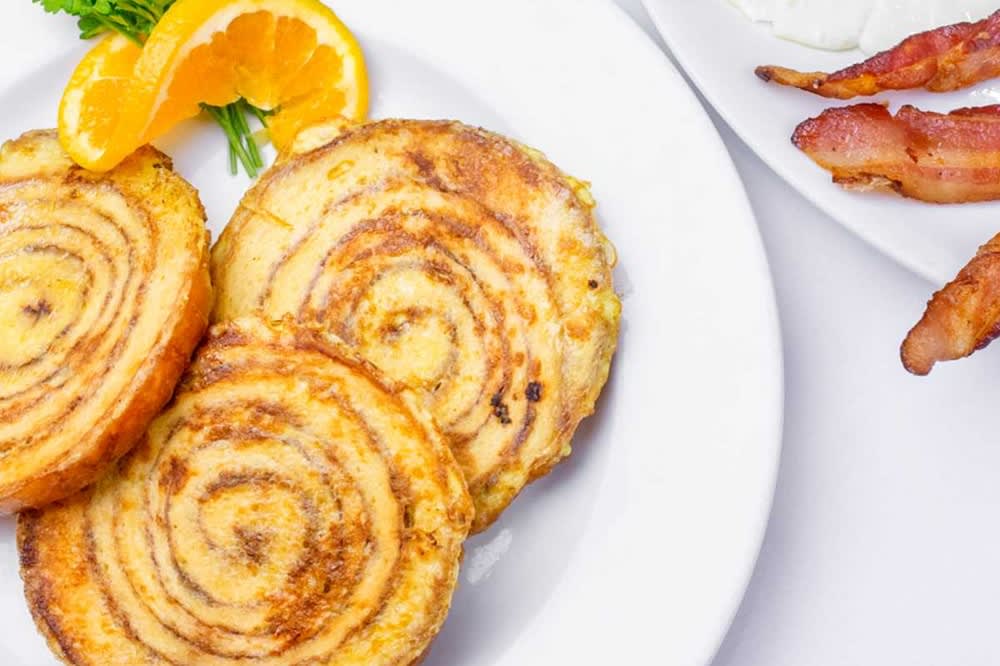 Who says cinnamon rolls are only for dessert? Ruby's Balboa transforms them into luscious French toast by dipping sliced cinnamon roll halves into a rich egg batter before grilling them in butter to a crispy golden brown. The combo is served with two jumbo eggs prepared in any style and a choice of thick-cut bacon, veggie sausage, or sausage links.

4. Corned Beef Hash and Eggs
Diners in the mood for classic comfort breakfasts can opt for the hearty corned beef hash and eggs. Pick your favorite egg preparation method and get ready to feast on a dish that includes breakfast potatoes and your choice of toast or an English muffin. You won't be disappointed!

5. Classic Ruby Burger with Cheese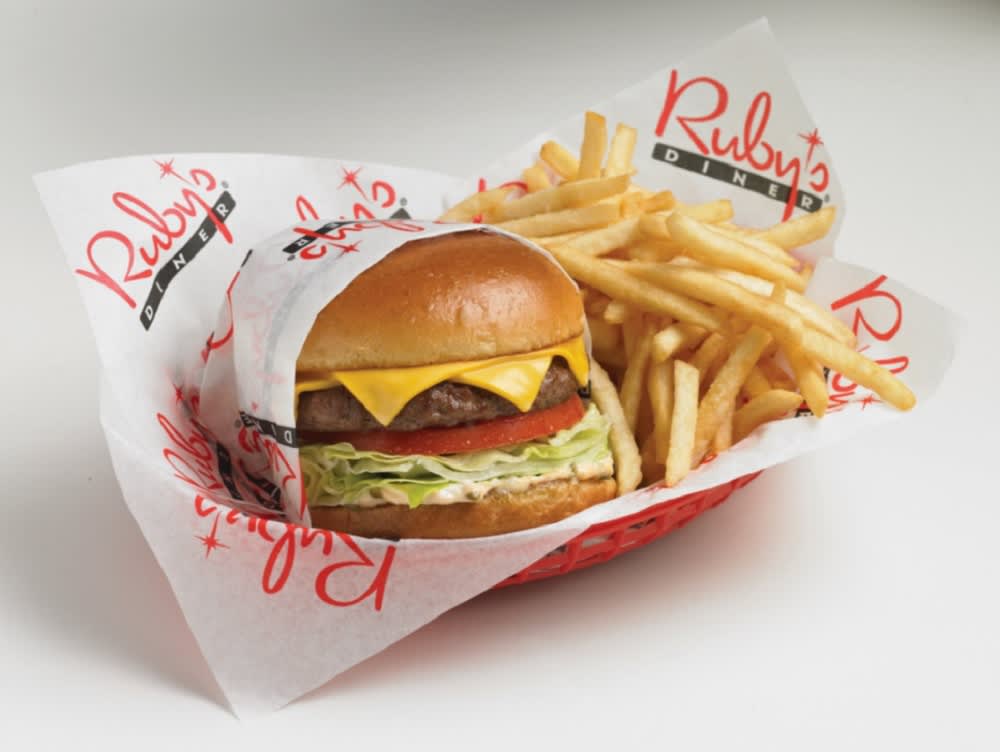 What better way to celebrate your new Balboa Island real estate purchase than with the classic combination of a burger, fries, and a shake! Tuck into a Classic Ruby Burger with two thick slices of American cheese, freshly sliced tomato, crisp and crunchy lettuce, and tangy RubySauce for an instant feel-good meal.


All burgers are made with premium, all-natural beef on your choice of bun: a grilled RubyBun, a wheat bun, a gluten-free bun, or a lettuce wrap. If you don't eat red meat, try ground turkey, a chicken breast, or an impossible burger patty. Top the burger off with either french fries, sweet potato fries, or Frings, and classic vanilla or chocolate milkshake.

6. Fresh Roast Turkey Breast Sandwich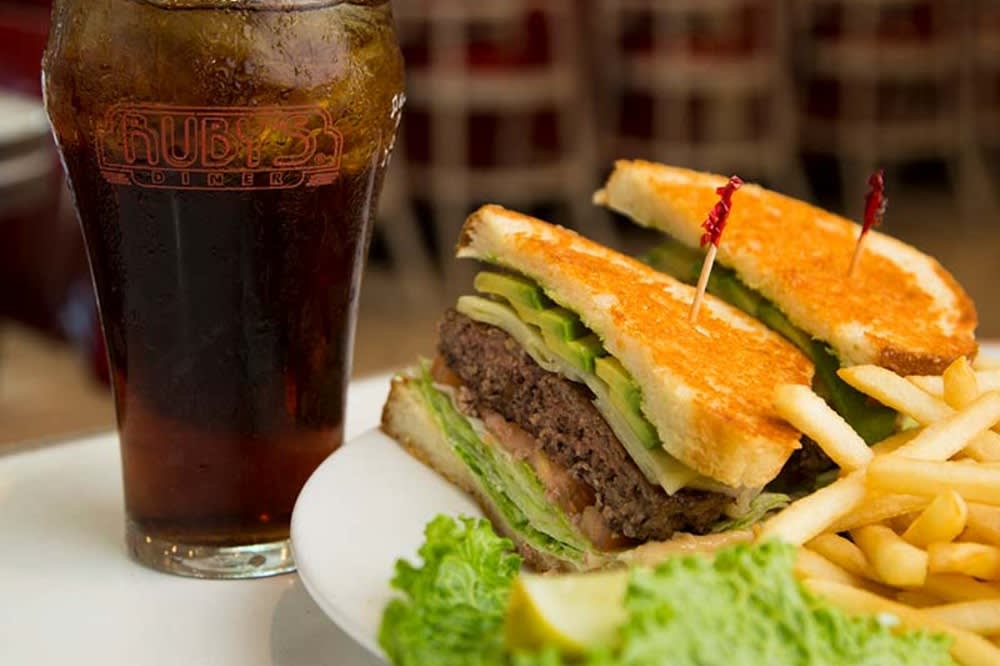 If it's not Thanksgiving and you're missing turkey sandwiches, the Ruby's Balboa fresh roast turkey breast sandwich will fill your craving. It's made of hand-carved, roasted turkey breast slices with crisp lettuce, tasty cranberry sauce, and rich mayonnaise served on a RubyRoll, all served with fries. You don't have to wait until Thanksgiving to enjoy this meal!

7. Albacore Melt
Like many other California companies and restaurants, Ruby's is dedicated to sustainability and eco-friendly operations. Its albacore melt starts with dolphin-safe tuna mixed with mayonnaise and other tasty condiments to make fresh albacore salad. From there, it tops golden brown-grilled sourdough bread with gooey, melted slices of Swiss and American cheese. As if that's not indulgent enough, it comes with fries too!

8. Ruby's Apple, Pecan, and Bleu Cheese Salad
Tuck into this refreshing salad that combines mixed lettuce, apples, dried cranberries, candied pecans, and golden raisins mixed with a zesty pomegranate vinaigrette and rich bleu cheese crumbles. If you need a little more, add some grilled chicken for a protein boost. You can also substitute the vinaigrette for blue cheese dressing, Caesar, chardonnay vinaigrette, fat-free sesame ginger, honey mustard, light Italian, original Asian, ranch, or thousand island.

9. Chinese Chicken Salad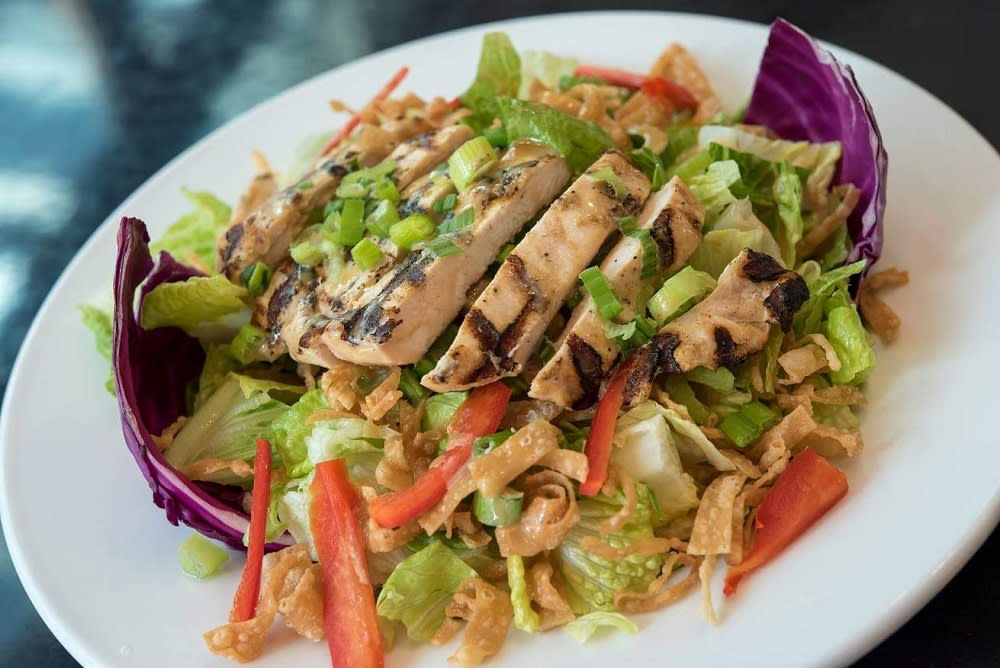 Legend has it that the Chinese chicken salad originated at the famous
Madame Wu's Garden restaurant
in Santa Monica, CA after dashing Hollywood actor
Cary Grant
requested it in the 1960s. Grant's version featured shredded chicken, lettuce, crispy rice noodles, and wonton strips. Ruby's version is a mix of fresh salad greens, celery, green onions, shredded red cabbage, red bell peppers, and crispy fried wonton strips. All this is topped with freshly grilled chicken breast and tossed with Asian dressing. You
could
switch dressings, but why mess with perfection?

10. Milkshakes
There's not much to say about Ruby's thick, creamy milkshakes, except you need to try every single one! Available in the following lush flavors: Butterfinger, caramel banana, chocolate banana, chocolate chip cookie dough, chocolate turtle, coffee, double dark chocolate chip, double vanilla, Hershey's chocolate, mocha, orange 50/50, Oreo cookie fantasy, peanut butter cup, salted caramel, strawberry, and strawberry banana, you're sure to find a flavor you'll enjoy!
Find your dream home amongst Balboa Island real estate
Contact
Kimberlee Drake
for expert guidance as you you find the perfect Balboa Island home.