Corona del Mar, or "Crown of the Sea," is a quaint neighborhood in Newport Beach, California. This charming seaside village is home to some 12,224 residents and offers a host of local amenities, like independent bookstores, quaint coffee shops, mouthwatering restaurants, and abundant parks.


Are you looking for
Corona del Mar
homes for sale, hoping to become a resident in one of the top areas to live in California? Is Corona del Mar real estate a good investment in 2022? These might be questions you are asking yourself as you search for a home in the seaside town where the median home price is nearly $1.9 million as of December 2021.
Demand remains high
Demand will always be high in luxury markets. Typically, you cannot go wrong with investing in luxury markets today. Demand for Corona del Mar real estate has only increased since its rise as one of Newport Beach's most coveted areas in the 1970s. The seaside village retains its charm even through tough times due to its stunning cliffs and rock faces that jut out against the sea, coupled with the small-town community at the base of two of California's major cities. Corona del Mar is not likely to go out of style.
Lifestyle
Corona del Mar is considered by Newport Beach and California locals as one of the best locations to live in California.
Niche
ranks the Corona del Mar community as the #4 Best Neighborhoods to Raise a Family in Newport Beach. Schools in the Corona del Mar community consistently rank top in the
US
Not only are the schools top-tier, but there is also a host of other amenities for families and retirees alike who own Corona del Mar real estate. The community aspects of Corona del Mar are what make it so attractive. It is also an incredibly walkable community. Streets lined with shops, restaurants, and single-family homes offer a comfortable and rich community feel.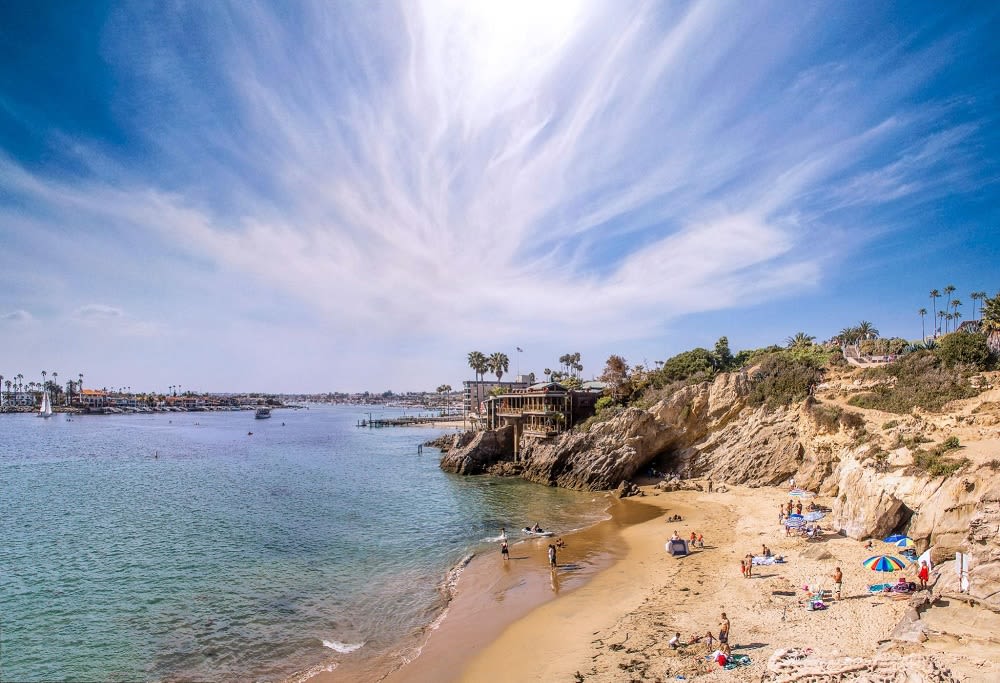 Outdoor and fitness enthusiasts can also delight in everything Corona del Mar offers. From beach days with the kids and hiking to watersports and any number of active classes, you will have no shortage of opportunities to get outside and remain fit. Corona del Mar real estate is pricey, but it's easy to see why with a lifestyle as enticing as this one.
Homes sell quickly
Corona del Mar homes for sale are not staying on the market for long. This is likely due to the high demand and growing interest in owning today rather than renting. Compared to last year, homes on the market in Corona del Mar sold, on average, in 52 days. This is compared to 271 days last year. Homes in the area are in increasingly high demand for both renters and buyers.
Attractive weather year-round
It is no secret that Southern California has some of the best year-round weather in the country. Those looking to purchase Corona del Mar real estate know that this weather is a big reason the area will continue to remain popular. Buying a home in the area, whether to live long-term, rent long-term or use it as a short-term rental, is always a good idea. Those looking to visit or live in the area will keep coming back, if not for the beach, the community, and the lifestyle, then for the weather.
Great location
Corona del Mar homes for sale are situated in an area of California that sits almost halfway between Los Angeles and San Diego. The town's location makes it an ideal spot for those looking to take advantage of the bustle and bright lights of Los Angeles or the laid-back city life of San Diego.


The best part? Corona del Mar offers residents a more tranquil, easy lifestyle than San Diego and Los Angeles.
Not only is the location ideal due to its proximity to other large cities, but Corona del Mar is also situated just along the sea. Historically, the area was not known for much other than a prime surfing location and a naturally beautiful place. However, new developments in Newport beginning in the 1970s started to put the town center on the map. More and more people are drawn to this Orange County locale because of its natural beauty, tranquility, and endless outdoor activities.
Interest rates are still low
Interest rates have seen historic lows in the last few years. Though they have risen in 2022, rates still hover around 3-4.5%. This is an excellent time for buyers to look into purchasing Corona del Mar homes for sale and take advantage of great interest rates. Rumor has it that interest rates will rise in the coming year or two, so it's best to get ahead of it now.


Are you looking for Corona del Mar homes for sale as an investment property or forever home? No matter your specific reason for investing in the Corona del Mar real estate market, we can help!


Local agent
Kimberlee Drake
has years of experience helping buyers navigate the ever-changing Orange County real estate market. Reach out today so she can discuss your specific goals and get you into the perfect home.